Join LVA in a celebration of those who have made a significant impact in our visual art community at the Louisville Visual Art Honors "The Stars Among Us" on Thursday, March 1 the day before First Friday!
2017: The Year in Review2017 was a busy year for Louisville Visual Art! With collaborations involving all segments of our community, including Home of the Innocents, Metro Parks, Bellewood, Maryhurst, Western Middle School, The Academy at Shawnee, Newcomer Academy, Louisville Water Company, Louisville Ballet, Portland Now and Google Fiber – to name just a few – the impact of LVA as a valued community partner continues to expand every year. We look forward to even more growth in 2018!

Human Abstract
2017 began with a groundbreaking collaboration with the Louisville Ballet called "Human Abstract". This innovative dance and visual art experience pushed the boundaries of how art can be created.
Art Squared
Almost 200 pieces of art sold this year, raising more than $30,000 to help us continue to provide scholarships to 1,000 talented and motivated students! Mark your calendar now: April 13 & 14, 2018!

CFAC & The Academy
Another fantastic year of Children's Fine Art Classes ended with exhibitions at Revelry Boutique Gallery in May and June, offering students chances to display – and sell – their work to the general public!

Hadley Prize
The Community Foundation of Louisville & LVA presented the fifth annual Mary Alice Hadley Prize for Visual Art to Adrienne Miller! The $5,000 award is an opportunity for local artists to enhance their careers through a targeted enrichment experience. Miller is using the prize to research the landscape and art historical influence of the Four Corners area of the American Southwest.

Studio 2000
"We Rise by Lifting Others" is a block-long mural, created in collaboration with Metro Parks and Recreation, and located at Christ Way Missionary Baptist Church. Studio 2000 students spent their summer executing this uplifting and vibrant new artwork that has become a beacon in its neighborhood!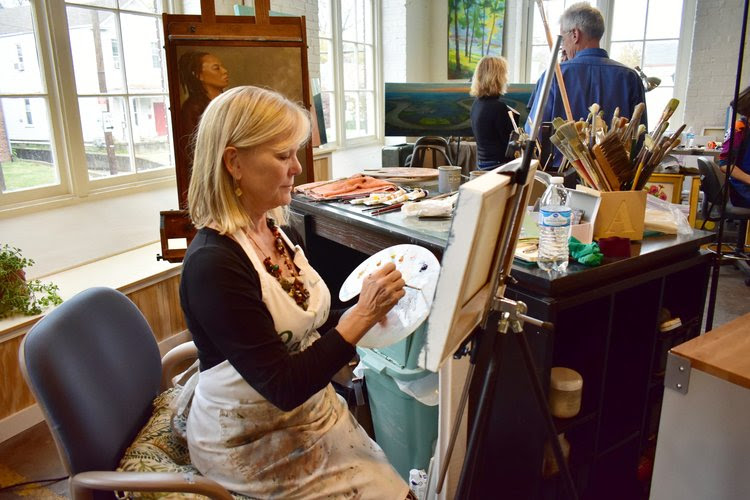 Open Studio Weekend
For our last big event of 2017, artists all over the city opened their studios to the public for one weekend to encourage art appreciation, discussion, sales, and community. This year was bigger than ever with more than 100 artists participating – and we're already excited to do it again on November 3 & 4, 2018!
Announcing "Taking Art in a New Direction"
Louisville Visual Art is a recipient of a Jennifer Lawrence Foundation Fund for the Arts Imagine 2020 grant!

"Taking Art in a New Direction" – In partnership with New Directions Housing Corporation, LVA will expand its existing Mural Art Program and target locations throughout Louisville's West End to develop a vibrant mural network.

LVA is grateful to the Jennifer Lawrence Arts Fund at the Fund for the Arts, Louisville Metro Government and Imagine Greater Louisville 2020. We are thrilled to partner with New Directions on this initiative in West Louisville!

Amazon Wish List
Want to give something truly necessary during this holiday season? LVA has created a Wish List of items we need to keep our Children's Fine Art Classes stocked – and we're checking it twice! Please visit our Amazon list and contribute to our children.